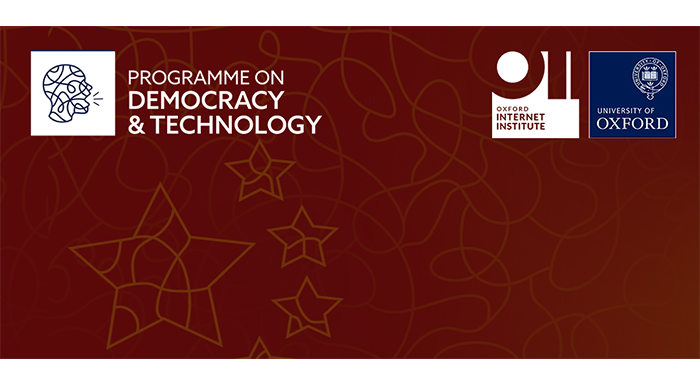 The China Information Operations Newsletter is edited by Hannah Bailey, a researcher at the Programme on Democracy and Technology (DemTech) at Oxford University. This newsletter is an eight minute read.
Reshaping Societal Values
Over the past month, Beijing officials have made clear their desire to reshape societal values by moderating citizens' online behaviour. Officials have imposed stricter regulation on the online gaming sector, branding games "spiritual opium" for younger people. The BBC reports that anyone under 18 years old will only be allowed to play online games for three hours per week. This rule is reportedly to be enforced using facial recognition software, amidst rumours that young people were using adult IDs to circumvent existing restrictions. As part of the Party's drive to moderate online behaviour, the state-backed newspaper the People's Daily recently criticised social media platforms that encourage support for "unworthy" celebrities. Following this statement, the social media platform Weibo was instructed to remove its online celebrity list.
Instead, young people are encouraged to study "Xi Jinping thought". The Guardian reports that Xi's "vaguely defined political ideology" will be included in the national curriculum this academic year. By introducing lessons on Xi's thought, the Party aims to promote a cult of personality to further legitimise his rule, as well as bolstering nationalist support. The Economist describes this effort as one that will allow Xi to surpass his predecessors, Hu Jintao and Jiang Zemin, and enable him to continue his rule indefinitely.
Young people are not the only group targeted by recent reforms – China is increasing its regulatory hold over big technology firms. The Economist reports that over 50 regulatory actions have been taken against firms, costing investors $1 trillion. This crackdown is driven by concerns that the existing digital markets exploit workers and encourage large firms to hoard data. However, it also allows the Party to demonstrate its power over an increasingly unruly market. For some background on this topic, William Hannas and Didi Tatlow's book on China's foreign technology acquisition takes a deeper dive into China's wider technology policy agenda and explores how technology acquisition has enabled the country's rise to superpower status.  
But Grassroots Movements Still Wield Influence

 
While Chinese social media is subject to stringent censorship, leaders are still sensitive to online public opinion. Protocol reports that although the #MeToo hashtag is censored on Chinese social media, widespread online criticism of Chinese celebrity Kris Wu for his alleged conduct against female victims led to his arrest on 31st July. In a similar incident, Alibaba responded to online uproar following an alleged sexual assault by firing the employees and executives involved. The tech company later announced it would establish its own anti-sexual harassment policy. 
State media publications are also not immune to online criticism. The China Media Project reports that following the Taliban's rapid take-over of Afghanistan, the state-backed media publication the People's Daily published a Weibo post describing the origins of the Taliban. The post claimed that the Taliban had originated as a group of "students in refugee camps" which "grew dramatically" due to its "support from the poor". The post received significant backlash from Weibo users, who criticised the whitewashing of the organisation's violent past. The post was then removed from the platform.
The CCP is aware of the need to be sensitive to domestic opinion to maintain popular support. In an article published in the Journal of Contemporary China, Professor Rongbin Han finds the removal of presidential term limits in 2018 alienated many who previously supported the CCP. Yet, while the Party's actions can lead to a loss of popular support, it is also adept at moulding critical narratives into ones that better suit its aims. In a separate article in the Journal of Contemporary China, Professors Hsin-Che Wu, Mark Weatherall and Kai-Ping Huang find ordinary Chinese people's conception of democracy has been shifted by government propaganda to one that focusses on "good governance" rather than a popular vote. 
A Summer of Regulatory Reforms

 
Stanford University's DigiChina report unpacks recent developments in China's Cybersecurity Law. In August the State Council detailed what kind of companies would be declared "critical information infrastructure" operators. These operators would be subject to further regulatory oversight to ensure the networks they operate are secure.
In addition to refining the Cybersecurity Law, China is in the process of rolling out the Data Security Law and the Personal Information Protection Law. In a separate report, DigiChina identifies seven major changes to the final version of the Personal Information Protection  Law. These include: a ban on automated decision-making for price discrimination; enhanced data protection requirements for minors under 14; and new requirements for cross-border data transfers.  
China's Public Diplomacy Efforts Continue

 
A study by the Centre for Information Resilience (CIR) has uncovered a large network of inauthentic social media profiles on Twitter, Facebook, Instagram and YouTube that are attempting to amplify pro-china narratives and delegitimise the West. This network circulated cartoons depicting vocal critics of China, and amplified content criticising the US for its handling of the Black Lives Matter movement and discrimination against the Asian community, among other issues.
In a separate incident, Chinese state media cited a Swiss biologist who did not exist in an article discussing the origins of COVID-19. Chinese state media frequently use Western academics or influencers to lend credibility to their news articles. However, as Politico reports, media outlets appear to have resorted to inventing an academic where they could not find one to support their narrative.
In a recent speech at the Central Party School, Xi Jinping appears to have indicated that China's "Wold Warrior" style diplomacy will continue. He stated China will not "not budge an inch or yield an inch of ground on matters of principle", telling cadres to "dare to struggle". The Economist writes that this approach to public diplomacy narratives show China's style of diplomacy prioritises performative patriotism that encourages domestic nationalist support. 
And finally, a report by a cybersecurity company PrivacyCo reveals that American technology products are used in China's digital surveillance programme, the Golden Shield, and likely play a role in surveillance activities in Xinjiang. The report also finds that Huawei middleboxes, which are used to censor internet traffic, are used in at least 72 countries. The researchers also note that Huawei technology exports could be used to track the data of international users, unless the CCP requests that technology companies remove the backdoor access that is built into its domestic products. 
Sign up for the DemTech Newsletters on COVID-19 Misinformation and China Information Operations